NEW PRODUCT RELEASE
1979-2004 MUSTANG MM350 WHEELS

INTRODUCING THE MM350 BY MR. MUSTANG!
Recipient of the People's Choice award at the 2021 ARMO Hot Products Showcase!
Stand out from the crowd with these stylish and bold multi-spoke drift inspired design wheels! Go stylish with the Silver Metallic Finish for that attention-grabbing look. Or, go sinister with the Gloss Black Finish for that stealthy black-out look. These MM350 wheels have been specifically engineered and designed for your Mustang to get more meat on the road. Measuring 18 inches in diameter and 8 inches in width, these wheels are designed to fit your Mustang perfectly!
Save Time, Money and Hassle with an MM350 Wheel & Tire Package! Available on either Kumho Ecsta tires or Falken Azenis RT615K+ tires. They will arrive at your door mounted & balanced and ready to install. Available in Staggered and Non-Staggered configurations. Center Caps & Lug Nuts included!

1994-2004 MUSTANG MM350 WHEEL AND TIRE PACKAGES – CENTER CAPS & LUGNUTS INCLUDED!
GLOSS BLACK WHEEL & TIRE PACKAGES
#MA8620 – Gloss Black Wheels on Falken Azenis Tires – 245/40/18 Front & 275/35/18 Rear
#MA8611 – Gloss Black Wheels on Falken Azenis Tires – 245/40/18
#MA8608 – Gloss Black Wheels on Kumho Ecsta Tires – 245/40/18 Front & 275/35/18 Rear
#MA8605 – Gloss Black Wheels on Kumho Ecsta Tires – 245/40/18
SILVER WHEEL & TIRE PACKAGES
#MA8621 – Silver Wheels on Falken Azenis Tires – 245/40/18 Front & 275/35/18 Rear
#MA8619 – Silver Wheels on Falken Azenis Tires – 245/40/18
#MA8609 – Silver Wheels on Kumho Ecsta Tires – 245/40/18 Front & 275/35/18 Rear
#MA8607 – Silver Wheels on Kumho Ecsta Tires – 245/40/18


1979-2004 MUSTANG MM350 WHEELS & CENTER CAPS
GLOSS BLACK WHEELS
#MA8097 – Gloss Black Aluminum Wheel Set – 5×114.3 Bolt Pattern, 30mm Offset, 70.6 Hub
#MA8090 – Gloss Black Aluminum Wheel – 5×114.3 Bolt Pattern, 30mm Offset, 70.6 Hub
SILVER WHEELS
#MA8098 – Silver Aluminum Wheel Set – 5×114.3 Bolt Pattern, 30mm Offset, 70.6 Hub
#MA8091 – Silver Aluminum Wheel – 5×114.3 Bolt Pattern, 30mm Offset, 70.6 Hub
CENTER CAPS
#MA8092 – Black Center Cap for MM350 Wheel
#MA8093 – Silver Center Cap for MM350 Wheel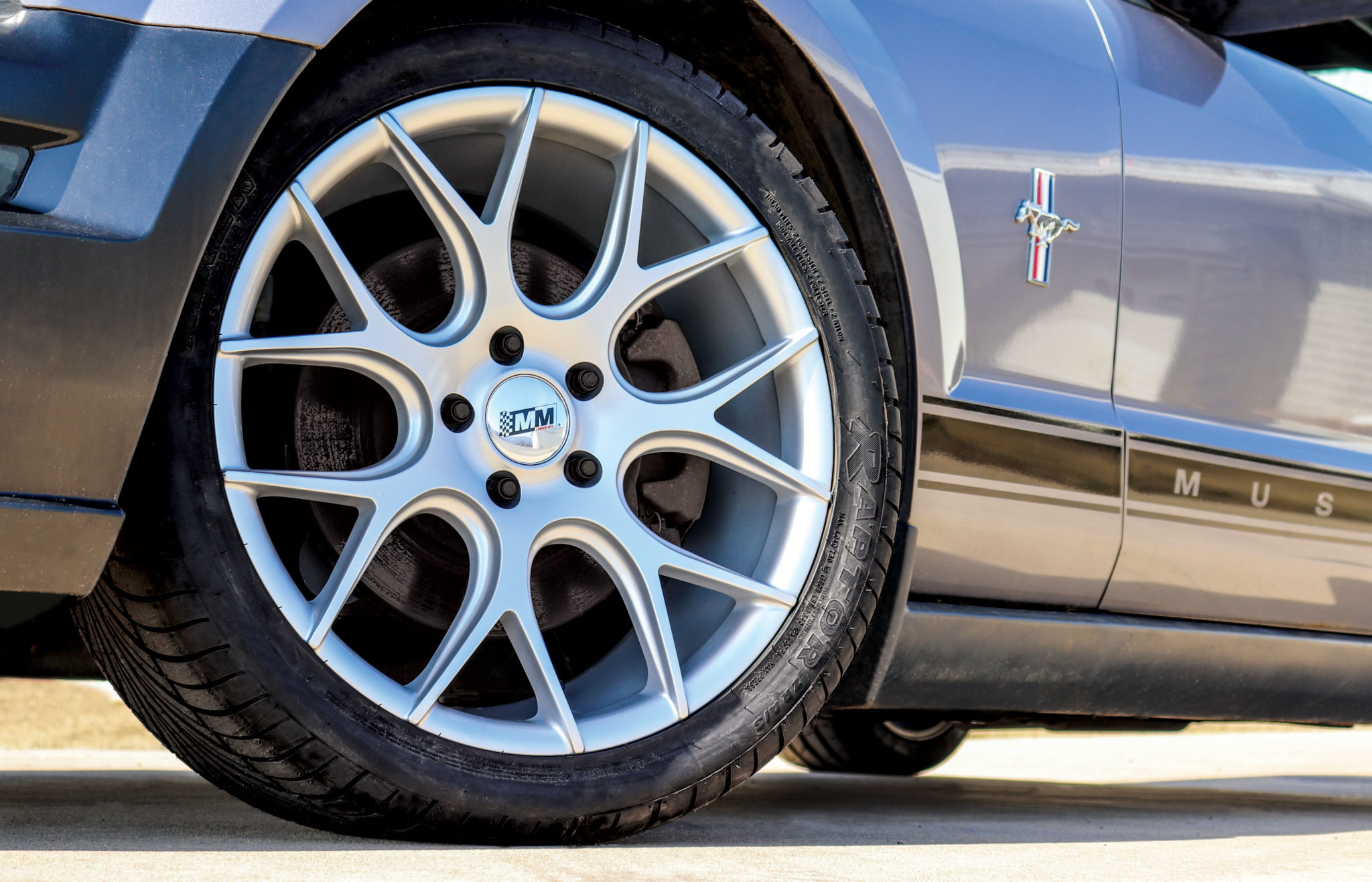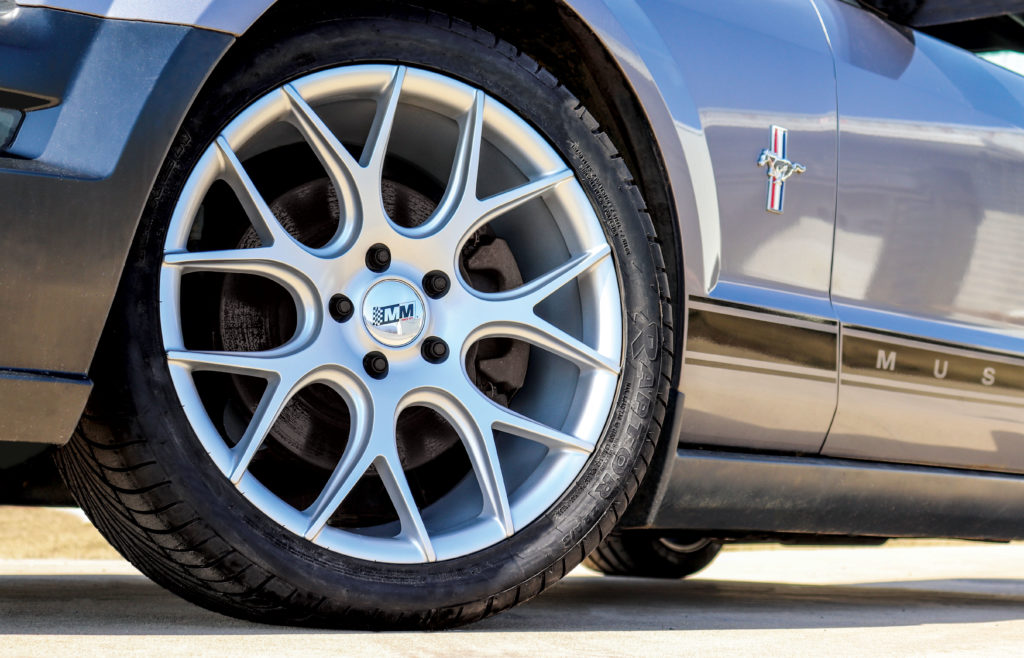 | Part No. | MSRP | Description | Length | Width | Height | Weight | |
| --- | --- | --- | --- | --- | --- | --- | --- |
| MA8620 | $1679.98 | Gloss Black Wheels on Falken Azenis Tires - 245/40/18 Front & 275/35/18 Rear | 9" | 28" | 28" | 160 lbs. | BUY NOW |
| MA8611 | $1506.73 | Gloss Black Wheels on Falken Azenis Tires - 245/40/18 | 9" | 28" | 28" | 160 lbs. | BUY NOW |
| MA8608 | $1417.48 | Gloss Black Wheels on Riken Raptor Tires - 245/40/18 Front & 275/35/18 Rear | 9" | 28" | 28" | 160 lbs. | BUY NOW |
| MA8605 | $1154.98 | Gloss Black Wheels on Riken Raptor Tires - 245/40/18 | 9" | 28" | 28" | 160 lbs. | BUY NOW |
| MA8621 | $1679.98 | Silver Wheels on Falken Azenis Tires - 245/40/18 Front & 275/35/18 Rear | 9" | 28" | 28" | 160 lbs. | BUY NOW |
| MA8619 | $1506.73 | Silver Wheels on Falken Azenis Tires - 245/40/18 | 9" | 28" | 28" | 160 lbs. | BUY NOW |
| MA8609 | $1417.48 | Silver Wheels on Riken Raptor Tires - 245/40/18 Front & 275/35/18 Rear | 9" | 28" | 28" | 160 lbs. | BUY NOW |
| MA8607 | $1154.98 | Silver Wheels on Riken Raptor Tires - 245/40/18 | 9" | 28" | 28" | 160 lbs. | BUY NOW |
| MA8097 | $678.28 | Gloss Black Aluminum Wheel Set - 5x114.3 Bolt Pattern, 30mm Offset, 70.6 Hub | 9" | 19" | 19" | 89 lbs. | BUY NOW |
| MA8090 | $184.78 | Gloss Black Aluminum Wheel - 5x114.3 Bolt Pattern, 30mm Offset, 70.6 Hub | 9" | 19" | 19" | 22 lbs. | BUY NOW |
| MA8098 | $678.28 | Silver Aluminum Wheel Set - 5x114.3 Bolt Pattern, 30mm Offset, 70.6 Hub | 9" | 19" | 19" | 89 lbs. | BUY NOW |
| MA8091 | $184.78 | Silver Aluminum Wheel - 5x114.3 Bolt Pattern, 30mm Offset, 70.6 Hub | 9" | 19" | 19" | 22 lbs. | BUY NOW |
| MA8092 | $10.48 | Black Center Cap for MM350 Wheel | 1" | 3" | 3" | .20 lbs. | BUY NOW |
| MA8093 | $10.48 | Silver Center Cap for MM350 Wheel | 1" | 3" | 3" | .20 lbs. | BUY NOW |