RACING INSPIRED PRODUCTS TO FINE TUNE THE WAY YOU DRIVE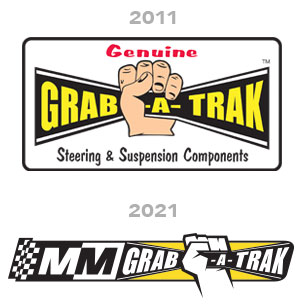 Since 1995, Grab-A-Trak by Mr. Mustang has been providing high quality racing inspired Steering, Suspension and Handling products.
What started out as a search for stiffer racing springs, became an internationally recognized product line for Ron Bramlett of Mustangs Plus. 1964-73 Mustang owners looking to upgrade their car's handling performance turn to the Grab-A-Trak to fine tune their driving experience. Whether on the track or daily driving, Grab-A-Trak has products to suit any driver's needs.
Why Grab-A-Trak?
Grab-A-Trak products are designed to give your ride a firmer, more controlled driving experience when compared to original equipment. With upgrades such as increased spring rates and upgraded 5 leaf rear leaf springs, your car will feel like it never has before. The stiffer leaf springs will also prevent suspension sag when you have extra passengers in your vehicle. Other components such as larger sway bars and polyurethane bushings eliminate corner leaning which was common on stock Mustangs. The reduction in corner leaning allows for quicker, more responsive cornering, thus creating a more enjoyable and safer driving experience.
Benefits of Grab-A-Trak
More comfortable ride
Quicker suspension and steering responsiveness
Safer driving experience
Bolts right up to factory mounting holes
Designed to look like original equipment
Powder coated for protection against the elements
Shop Grab-A-Trak products today!
Mustangs Plus was acquired in 2021 making it the newest member of the Extra Mile Brands family of companies including Corvette America, Mr. Mustang, Mustang America, Auto Accessories of America, Classic Car Dashes and Onyx Covers! Grab-A-Trak is now a sub-brand of Mr. Mustang.
The proud history and reputation, built over decades of excellence, lives on for future generations of Mustang enthusiasts. Shop our selection of quality Mustang reproduction parts at AAAdirect.com!